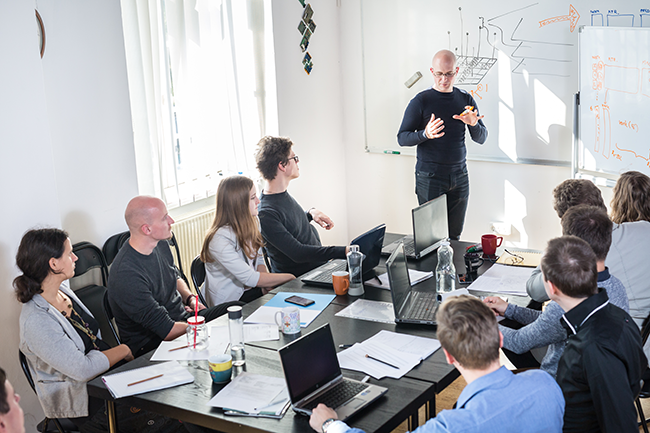 "Boot Camps" usually run from three to five business days - during which our developers meet with your team at your offices to quickly identify business requirements and get your project rolling.
Our "Boot Camps" are intensive and are designed to help you, the customer, identify the following areas of the project life cycle.
Project Requirements

- Working with your teams, we quickly help you identify the requirements of your application.

Skills Assessment

- Our personnel help management identify required skills and match them to your available resouces. When needed, we also identify areas of development that can be effectively out-sourced.

Team Organization

- Teamwork is the key to good software design and implementation. We help organize teams based on team functionality and the skill sets of your personnel.

Risk Analysis

- We help you identify those areas which can jeopardize the success of the project. Once identified, we stategize with you and your personnel to quickly test these risks and formulate contingency plans when appropriate.

Project Framework

- Our personnel brief management and your developers on a framework in which to successfully develop your application. The framework encompasses overall architecture, coding conventions, milestones, "proof-of-concepts", prototypes, and risk assessment.

Specifications

- We make sure no corners are cut! Our developers can help you formulate functional specifications for the application - the "contract" under which your personnel implement a solution.

Implementation, Testing, Deployment

- Our involvement does not necessarily end with the "Boot Camp." If needed, our developers can help you implement, test, and deploy your business solution.
Authentech's Project "Boot Camp" is designed to provide you with the guidance and assistance to begin your project on the right foot and to complete it on schedule. Our "Boot Camp" is ideal for companies who need expertise in identifying requirements, assessing skills, and formulating an overall development process. Click here to schedule a "Boot Camp".